Over 10 years of improvements and counting
Ittrium freeform has been in development since 2011. The guiding principal in its development has always been 'flexibility without compromise'.
The growth of CMS systems in the last half-dozen years has been exponential. Open-source such as Wordpress, Joomla! and Drupal have offered novice web builders a simplified platform to build blogs and template-based websites.  Entrepreneurial developers have contributed 'plug-ins' to make these sites more functional.  But, like most one-size-fits-all solutions, they simply can't adapt to new, complex and changing business requirements.
Ittrium freeform was created out of our desire to allow our customers to take their site in any direction that they need.  We wanted to give developers the tools to build databases, add users, transport data, build complex forms and offer a user experience that fits their business model, not ours.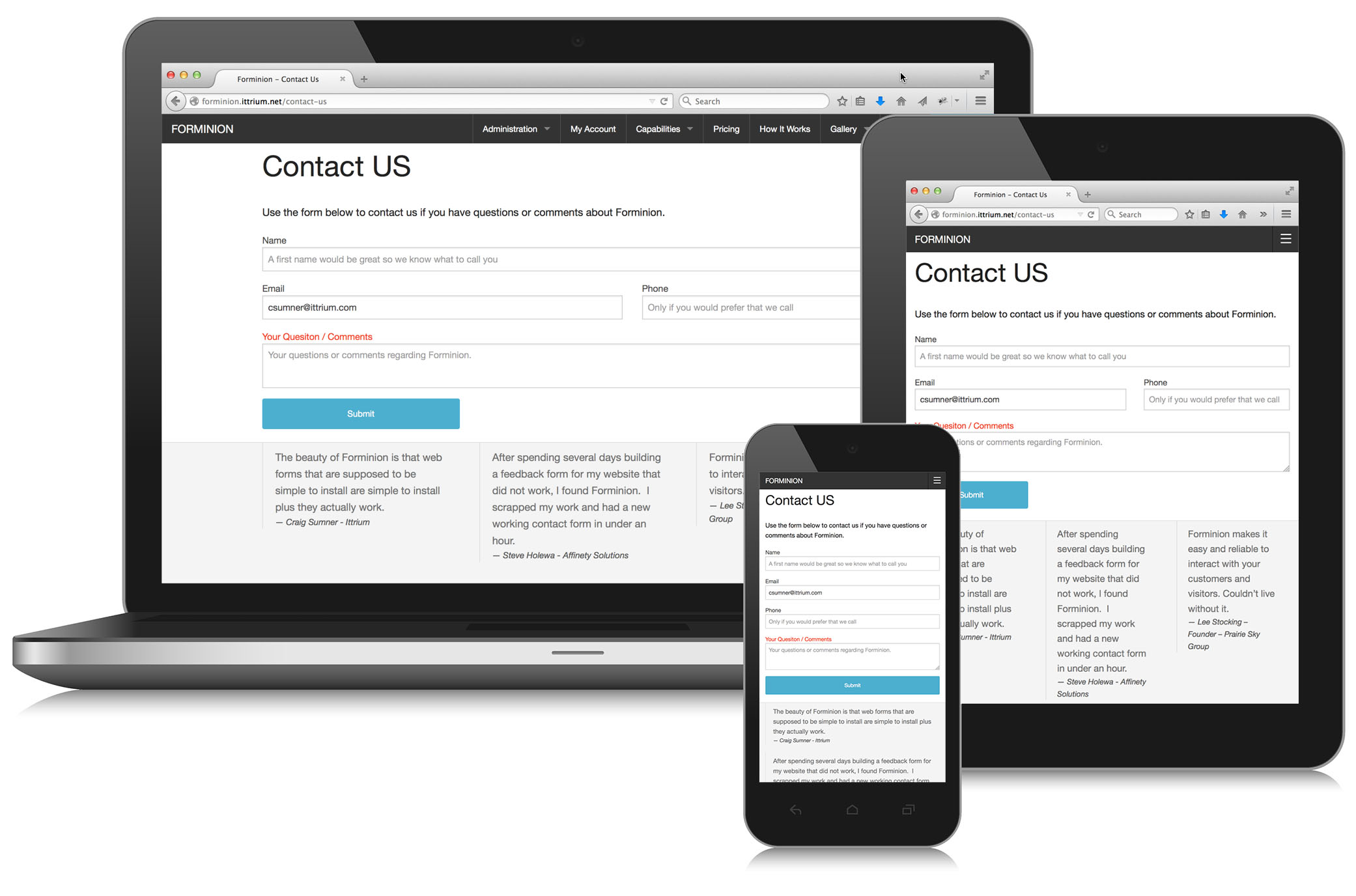 How Ittrium freeform Works
Ittrium has been building enterprise class websites for more than a decade.  In that time we have gained valuable experience as to how businesses use the Internet to market their products, collect and share data and streamline their operations.
We developed a series of components called "Gizmos" that perform nearly any web-enabled functionality you might need.  When building an Ittrium freeform application, you select from our list of Gizmos, then define how you want that Gizmo to work by selecting from simple lists of attributes, options, and functions.
With a freeform application you can easily perform tasks such as the following without having to hire a software engineer.
create new SQL databases
create forms to collect data
insert the data you collect into a SQL database
post the data you collect to other 3rd party software platforms
create a credit card charge through Stripe
deliver email notifications that include data from your application
produce reports and charts
generate data downloads for use in Excel or other spreadsheet applications
send text messages to notify customers through Twilio
The list of features and functionality that can be created through a freeform application is endless.  Our customers are already using freeform to create unique business solutions to meet their needs such as:
engineering portals to calculate the price for 3D printing
e-commerce websites
online ordering system for the food services industry
customer satisfaction surveys
utility bill payment solutions
energy audit and reporting solutions
fire safety testing services applications
google search result applications
multiple listing services applications for the real estate industry
We'd be glad to offer more examples of how Ittrium freeform has been used to solve complex website problems, but that's not the point. Ittrium freeform was built to adapt to your needs, not to box you in to someone else's solution.
Give us a call. Let us know about your unique challenges and we'll show you how Ittrium was built around you.